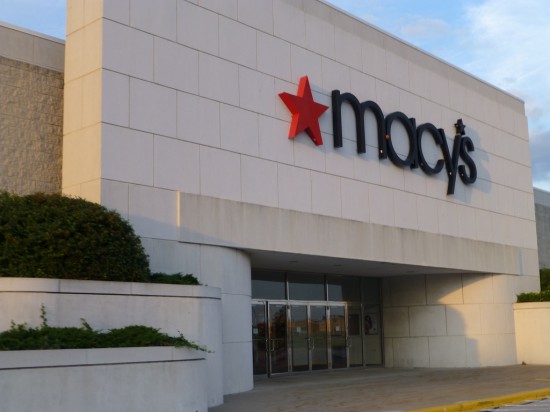 Founded in 1858, Macy's is a department store that has served millions of people and continues to be popular. Despite being a department store with higher quality items that found at discounts stores like
Target
, it's still known for good sales and discounts. Even beyond these discounts, there are always additional ways to save money you you know a few secrets. Here are some ways to save money during your next trip to Macy's:
Coupons
Macy offers multiple coupons both online and in the flyers you normally find in your Sunday paper. These coupons can range from 10% to 30% and are usually for a specific department (20% off all Women's Apparel, for instance). Most of the coupons you find in flyers are identical to the ones you'll find online, but there is sometimes an occasion when a coupon is only good in person or online, so it's important to be aware of that. These can often be stacked upon sales that are going on in the store. If you know that you will be making a large purchase at the store, but don't have any coupons, you can buy them on sites like eBay which will allow you to save money even after the purchase price.
Weekly Flyer
Macy's sends out a weekly flyer that you can find in your local Sunday newspaper. The flyer shows the top deals for the Macy's closest to your location and is a great resource to help you plan your shopping trip. Sometimes the flyer also includes a coupon or online promo code.
Social Media
Like many businesses, Macy's has several social media accounts, such as Twitter and Facebook. Following these accounts is a great way to learn about any upcoming sales or discounts, or to receive coupons. Sometimes Macy's sends out coupons or discounts codes that are for it's social media followers only, so it's a great idea to keep an eye on these accounts.
Email Newsletter
The best way to learn about new sales, events, or coupons is by signing up for Macy's email newsletter. You can also choose to receive text notifications of new or upcoming sales as well. Macy's offers a 15% discount for new members to their email newsletter, so it's incentive to sign up for the discount code, even if you don't intend on reading every newsletter that arrives in your inbox.
Star Rewards
Like many retailers, Macy's has their own credit card that offers a rewards program to its user base. Macy's will send out $10 to $25 discount coupons several times per year to reward its credit card users. While the APR may be high, as with many retail or department store credit cards, this is a great way to save a bit of money if you frequently shop at Macy's and you have the discipline to pay off the card each month so you don's accrue any interest rate charges.
One Day Sale Events
Have you ever seen an advertisement in the newspaper, online, or on television for a Macy's One Day Sale events? These generally happen right before or after a major holiday, although the best known One Day Sales occur around Independence Day, Memorial Day, and Labor Day. These one day sales feature deep discounts on a variety items from clothing to household items to accessories or jewelry. Macy's One Day Sale Events are very popular and items can go out of stock quickly, so it's a good idea to study the flyer or online catalog before the sale event. These one day sales are a great way to save money at Macy's, especially if there's been something you've been thinking of buying for awhile.
Clearance
Macy's is one of the only department stores that marks items as "clearance" a good month or month and a half before the season ends. This is a great way to save money on items that are still in season.
In-Store Sales
Many brick and mortar stores have different items on sales than they advertise online. Most of Macy's short term in-store sales start on Wednesday or Thursday and end on Sunday. Knowing the sale schedule can help you not only plan your shopping trip better, but help you save a little more money. There's nothing worse than buying an item only to discover that it went on sale a day later.
Free Shipping
One of the reasons most people like shopping online is that it's more convenient and you don't have to deal with the hassle of lugging all your purchases home. This is especially true if you're buying a large item. Macy's standard shipping is around $8, but if your order is over $99, then you get automatic free shipping. This is a great thing to keep in mind if you're doing a lot of big purchases on Macy's website.
Gift Cards
Macy's gift cards don't expire, so don't throw them out! You can also buy Macy's gift cards online at places like eBay where you can get a 5% to 10% discount on their store value with relative ease, and may be able to score an even higher discount if you put some time and effort into your search. Another great way to get gift cards is to use a swap site where you cash in a gift card for something you're not going to use for one you are going to use. Gift cards are a great way to save some money when shopping at Macy's.
Only Buy What You Need
Since Macy's offers so many ways to save with constant coupons to save even more, it can be tempting to buy clothing just because it seems to be offered at such a great price. Refrain from doing this. If you weren't planning on buying it, it doesn't matter how much of a discount you get, it's spending money that you otherwise wouldn't have purchased. When you shop at their stores or online, know what you need and stick to buying those items. Otherwise all that savings might end up costing you a lot of money.
(Photo courtesy of Nicholas Eckhart)
Like Saving Advice? Subscribe!
Subscribe to get the latest Saving Advice content via email.