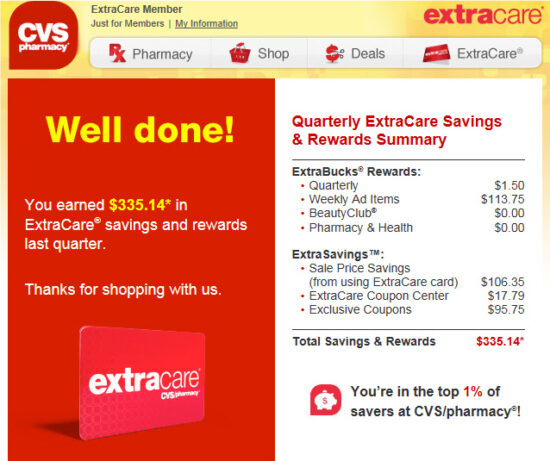 Do you consider yourself an expert saver who is able to get the best deals at the stores where you shop? If you consider yourself good at saving money, and one of the stores your frequent is CVS, you can now get a pretty good idea of how good of a saver you really are.
Anyone who uses coupons and looks for ways of buying toiletries and other drug store items for the least amount possible will have a good understanding of the amount that can be saved at CVS. I don't think I've paid a single cent for toothpaste, body wash or soap for the last three years because of the deals I've always been able to find there. It was one of the stores I used often when I challenged myself to eat well on $1 a day for 100 days. Even knowing the system well, I'm not sure that I could compete with Bank Gurl.
Those who believe they are doing well with their savings can now compare themselves to other CVS shoppers. When CVS sends out their quarterly ExtraSavings & Rewards Summary, they also list, in the bottom right hand corner, how you did in your savings compared to all the others who shopped at CVS that quarter. As you can see from the above image, Bank Gurl managed to be in the top 1% of all savers.
CVS has a lot of great ways to save money. Here are a few ways that make it an excellent place to shop if you have a store near you.
ExtraCare ExtraBucks
CVS has an ExtraCare Card that provides a lot of different savings benefits through ExtraBucks. ExtraBucks is money that can be used to purchase items at CVS. This includes 2% back on everyday purchases issued 4 times a year (Jan. 1, April 1, July 1, and Oct. 1). You also can receive weekly ad ExtraBucks when you purchase qualifying products shown in their weekly flier. They also have ExtraBucks programs for beauty products, pharmacy purchases and diabetes purchases.
Stacking Coupons
CVS issues store coupons through their ExtraCare system. These store coupons can be stacked with manufacturer coupons (like those from the Sunday paper). Yes, you can use two coupons on a single item, which allows you to get even more savings on products.
Buy One Get One Free
CVS has a generous coupon policy. If there is a buy one get one free sale going on in the store, and you have a buy one get one free manufacturer's coupon, you get both products for free.
Rainchecks
The deals that are advertised in the weekly fliers often fly off the shelves, so there aren't any left toward the end of the week. This isn't a problem because CVS has a wonderful raincheck policy. If the product you want to buy is sold out and it's part of an ExtraCare Promotion, you're still able to take advantage of the promotion at a later date, as this will be included as part of the raincheck.
It's these types of opportunities that allow those who are good with coupons and matching sales with ExtraCare offers to get a lot of quality products extremely inexpensively, and sometimes for free. There are even cases where you can make money buying products, believe it or not. And if you're truly good at this, you can rank in the top 1% of all shoppers at CVS.
Like Saving Advice? Subscribe!
Subscribe to get the latest Saving Advice content via email.