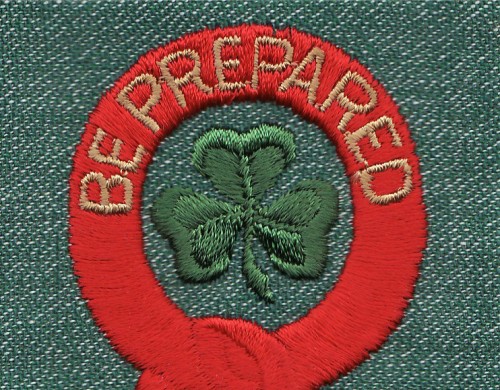 Much like its twin
savings challenge
, the
52 week make money challenge
gives the impression that it shouldn't be too difficult to accomplish. That's one of the points that makes it so appealing. It's also what can lure people into thinking that they can just wing it week by week. While this is certainly possible, doing a little preparation work at the beginning can go a long way to making the entire challenge less stressful, and give yourself a better shot at ultimately achieving the goal.
In order to prepare for this challenge, I put together a list of ten different things I can do to possibly make some money. Some I can do weekly, while others will take time to prepare. What I hope is that these will give me a foundation from where to start each week. I'll look at these first to see if I can do any of them, and I'll always have them as options even if I can't come up with other ideas of how to generate more cash.
This list is by no means comprehensive, or one that you should necessarily follow yourself if you're also attempting the challenge. It's a list that will work for me. If there are some ideas that will also work for you, incorporate them into your plan. If they don't, ignore them. Hopefully the list will help inspire you, and get your creativity going so that you can also come up with a solid list to begin your challenge. Here are some of the things I plan to do.
Stuff I Don't Need
I have way too much stuff, and it's killing my minimalist tendencies. I could easily do this challenge solely selling stuff I have that I no longer need or want. Getting rid of at least some of it is a top priority for 2014. Luckily it happens to fit in nicely with this challenge. I'm sort of scared to open some of the boxes that I've stored away, but I know it needs to be done. I'm determined to at least get this process started. The good thing is that there are a wide variety of different ways that I can do this which include eBay, Craigslist, garage sales, flea markets, and conventions (I have some collectibles) to name just a few.
Cans & Bottles
I'm somewhat ashamed to admit this, but I tend to throw away cans and bottles directly into the recycle bin. Part of this is because I really don't drink that many, but that's still a pretty lame excuse. This is especially true since I live in a state that collects a 5 cent fee for each one bought, and which would be refunded if I took them back. I have been basically throwing money away, and that will stop this year.
In addition to the few I drink, I should be able to find these as well. I walk a lot. And when I walk, I pick up trash (that whole "leave a place better than when you came" thing). Among this trash are a fair amount of cans and bottles. I'll start saving those as well to see how much it nets me over the year.
Box Tops for Education
Apparently one of the easiest things to sell on eBay is Box Tops for Education. I'll start collecting them on my own and also see if I can get them some of the other ways listed in the article. When I have accumulated enough, I'll see if I can turn them into some extra cash for the challenge.
Coke Rewards
I actually don't know much about this program since I've never participated in it myself, but I have friends that do. They often collect the codes to use for themselves or to sell. I figure that since I will be collecting bottles and cans as I walk, I should also make an effort to collect these as well to see if I can make a little extra money from them.
Arbitrage Opportunities
I used to do this a lot, but I haven't done it in a number of years. I will keep my eyes open for things being sold that I know I can resell for more at another venue. I'm sure that I'll likely be a bit rusty at it. However, it's time to smooth that rust off and get back into the habit of always being on the lookout for these arbitrage opportunities.
Dumpster Dive
I really don't dumpster dive (although I might be willing to give it a try for this challenge). What I have done in the past is pick up items left on the side of the road with "free" signs on them. If I see these items available at no cost, and I think that I may be able to sell them, I'll take the opportunity to try to flip them for the challenge.
Upload More Videos
This idea might not earn me anything this year, but uploading videos has unexpectedly earned me a few hundred dollars in the past. One video ended up being purchased for a Grand Canyon special on the Discovery Channel and another one was promoted by a PR firm. Neither was expected. I will make the effort to continue to take and upload videos with the hope that more opportunities to make money like this come my way in 2014.
Short-Term House Sit
In the past, I have done house sitting, but I only accept jobs that are for a week or longer. This is because it disrupts my writing if I have to move too often. This year I will accept these opportunities if any are offered to me as part of the challenge.
Contest Opportunities
There are a lot of corporate contests where people are so eager to get chances to win that they'll literally pay for these chances. A good example is the McDonald's monopoly contest. My guess is that with the winter Olympics being held this year, there will be even more opportunities to profit from these types of contests. I will keep my eyes open for any that seem like they'll offer a good opportunity to earn a bit of money.
Toilet Paper Rolls
Okay, I'm more than a little skeptical on this, but I've seen others talk about it so I'm willing to give it a try. You know those cardboard rolls that are left after you finish using the toilet paper? Apparently there is a market for these, and people sell them on eBay. A demand exists for them because they can be used in a number of craft projects. I'll start saving them from day one to see if I'm able to collect enough to be worth money.
If you plan to do this challenge yourself, or if you just like to learn about new ways it's possible to earn money, I think that you'll enjoy this challenge. I hope to learn just as much from you as I pass along myself. Combined with learning new ways to save money, I hope there will be a lot more people with a solid start to their emergency fund by the end of 2014.
(Photo courtesy of Calsidyrose)