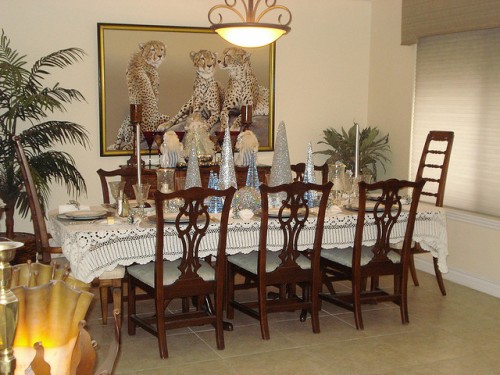 When we were first married and broke, I remember one of my mothers' friends gave us Christmas ornaments for a wedding present. She said, "It's the one thing no one thinks to give you when you're just starting out, but it's something you'll really want and won't have any money to buy for yourself." Given that we were married well before December, I didn't think much of it. Until it came time to decorate our puny apartment and Charlie Brown-esque Christmas tree. Then I was grateful for her gesture. She was right. We were broke and Christmas ornaments were not in the budget. Those Christmas ornaments turned out to be one of the best wedding presents we received.
It's easy to see all the cool holiday stuff in the stores and think that you want this and that and everything else. You want a great display and you want it now. But most Christmas decoration collections are amassed over time with each year bringing new additions. Rather than blow tons of money in one year and then spend five years paying it all off, the smart approach is to build slowly, cutting costs where you can. Here are some ways to build that Christmas decor collection on a budget.
Buy Used
Thrift stores, yard sales, and estate sales can be great places to pick up inexpensive decorations. People move or downsize and need to get rid of their stuff. Either that or they decide to change themes so they get rid of everything that doesn't match their new plan. Your best bet is to either hit these places well before the holidays before the stock runs low, or right before the holidays when people are pulling down their decor and replacing the things they no longer want.
Make It
I still have a set of wooden ornaments that I picked up at a hobby shop and painted myself. I think the set was around $5 for thirty-six ornaments. From what I've seen, the prices aren't that much different today. You can make all kinds of decor and if you don't go nuts buying supplies, these can be very budget friendly. Even the basic popcorn on a string or construction paper loop garland can be fun to make.
Avoid The "Christmas Shops"
These come in two varieties: The temporary stores that pop up in the malls every year and the permanent stores found in many tourist destinations. Both are usually pricey compared to discount stores. The permanent stores rarely have sales (since they aren't desperate to get rid of unsold stuff at the end of the season). The temporary stores may be worth a look during the after-Christmas sales, but generally not before.
Clean Out Your Parents' Or Grandparents' Attics
If your parents/grandparents have an attic or basement full of stuff from your childhood and they no longer want to put it all up, ask if you can have some of it. You can also seek hand-me-downs from other relatives and friends. If you hear someone talking about downsizing their Christmas decorations, ask if you can take some of it off their hands.
Hit The After Christmas Sales
You can get great decor cheap if you wait for the after Christmas sales. Sure, you won't get to put it up until next year, but that's half the fun. By the time next Christmas rolls around you won't remember everything you picked up so it will be like getting new decor.
Take Advantage Of Sales And Coupons
Michael's and other craft stores sell Christmas decor and they put out lots of forty and fifty percent off coupons. Kohls often has sales on their decor and you can use Kohls Cash or some of their "Savings Pass" coupons to bring the price down further. (They also sell some of the Hallmark Keepsake ornaments and this is one of the few ways to get a discount on them.)
Try The Dollar Stores
While you always want to be careful what you buy at the dollar store, you can get things like basic glass balls, garland, undecorated wreaths, table top trees, and lights at the dollar stores. Jazz up the undecorated stuff with some of your own finds and mix the cheap ornaments in with your nicer things for a pretty effect.
Use Nature To Your Advantage
You can make your own garland and wreaths with pine boughs cut from your own trees. Put some berries in a bowl for instant color. Poinsettias are generally cheap and colorful (just be careful if you have kids or pets as they can be toxic). If you buy a real tree, ask the person who cuts it for you if you can have the bottom branches. You can make a centerpiece with them, or put them on your mailbox. Pinecones make great accents for wreaths, or you can paint them silver and create a centerpiece. Look at what you have available and bring some of the outside inside.
Ask For Gifts
Instead of asking for other presents for Christmas or other holidays, ask for ornaments, wreaths, or outdoor lighting. If you're getting married near December, register for holiday decor.
Go With A Theme
Rather than buying everything that catches your eye, try to stick with a theme. That will automatically reduce your "love it, gotta have it" pile by quite a bit. Maybe you like cartoon characters, the rustic look, music, candy, or a nature theme. Stick to buying things that suit your theme, rather than buying everything that you think is cute.
While our Christmas decor has become more elaborate over the years, I still have those first gifted ornaments and hang them every year. They remind me of the early years, and they also remind me how far we've come decor-wise. It takes time to build a full Christmas display (unless you spend way too much in one year), but there are ways to cut the costs while you work up to your dream Christmas. When you get there, everything will be more valuable to you because you'll remember the effort that went into selecting each piece, rather than remembering the piles of bills.
(Photo courtesy of jnissa)