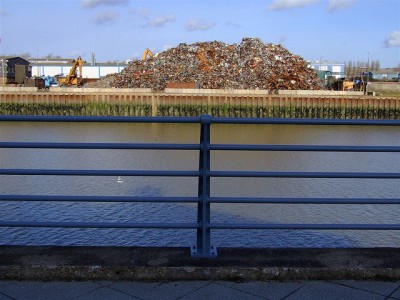 When I first started on my frugal journey I had to get past quite a few fears and stereotypes that were holding me back, especially after I moved to a new area. You wouldn't think that frugality would be a scary thing, but sometimes it can be a little frightening, especially if you've never had to confront those particular fears before.
My problem came when I had to venture into an unfamiliar and "bad" part of town. I wanted to recycle quite a bit of metal that I knew would bring in some decent money. Unfortunately, the metal recycler isn't in the best part of town. I'd never been down there before and I was worried and not just a little bit scared about going there. Everyone kept telling me how bad it was down there, how much crime there was, and that rough people tended to frequent the metal recycler. I didn't know if a woman alone would be okay in that area.
For a long time, I put off going because I was scared. Finally I decided to just drive down there one day to do some reconnaissance work. I wasn't going to get out of the car, I just wanted to look around. What I saw surprised me. Sure, it wasn't a great part of town, but it wasn't as awful as I'd heard it was, either. During the day it wasn't that different from many other areas. There were plenty of businesses, lots of traffic, and no problems that I could see. I could tell it probably wasn't the sort of place you'd want to be after dark when the businesses closed down, but during the day it seemed fine.
I decided to give it a try and a few days later I loaded up my metal and headed back to the recycler. When I got there the people were very nice. No one seemed dangerous or mean. A complete stranger even offered to help me unload, since the policy of the recycler was that their employees were not allowed to help customers unload. I made more money than I thought I would and I left kicking myself for not having gone down there sooner because my trip turned up some other positives, as well.
Not only does the recycler pay good rates, there are two excellent thrift stores in that same area of town. I've saved a ton of money by shopping at those places and I never would have discovered them if I hadn't gotten past my fears and ventured into that part of town. There's also a very good charity in that area that does rescue work with animals and they will take almost anything you care to donate, no matter the condition. What they can't fix or sell, they recycle for money that gets pumped back into the charity. I've been able to get rid of quite a few things that Goodwill and the Salvation Army didn't want, I get my tax deduction, and I know that my contributions will help animals.
In order to maximize your frugality, you sometimes have to deal with your fears. Now, this doesn't mean heading into the bad part of town at 2AM or going into areas that aren't safe at any time of day. You have to be reasonable and careful, not reckless. Your safety is the most important thing and not worth any amount of money. However, chances are that if you rationally look at your fears you will find that quite a few of them are unfounded or at least not as bad as you think they are. Don't take everything you hear about an area or business at face value. Do your own investigative work and decide for yourself.
(Photo courtesy of Elsie esq.)