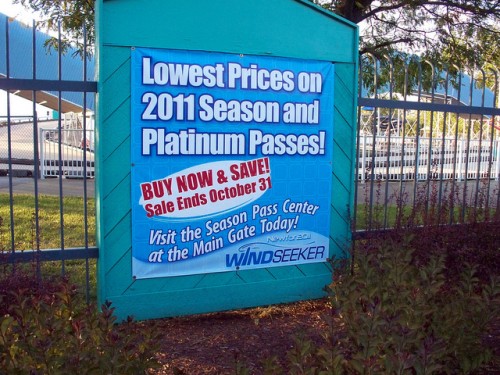 Do you have a museum, zoo, or theme park nearby that you find yourself visiting more than once per year? If you do, you might want to look into the costs and benefits of buying a season pass or becoming a member. I was surprised recently to discover that a year long membership at my local zoo cost just five dollars more than the price of a one-day ticket. If I visit that zoo twice in a year, I've saved money. Actually, I could probably save money with just one visit because the membership offers discounts on food and merchandise.
At first glance it may seem like overkill to buy a pass or membership for just a few visits. But if you look closely you'll probably discover that the pass is the better value, particularly if you'll visit more than once in a year or season. The benefits of becoming a member or buying a season pass vary, but here are some common benefits.
Admission becomes free after a certain point: This is the main benefit and the one you should most closely consider when thinking of buying a pass or membership. Sometimes it takes as little as two visits for the pass to pay for itself and sometimes it takes a few more. Crunch the numbers and ask yourself if you will visit that many times in a year or season. If the answer is yes, go for the pass.
Discounts on additional admissions: Some memberships allow you to bring a specified number of guests along with you and they will get in either for free or at a discounted rate. This is helpful if you frequently have out of town guests or if your kids want to bring their friends along.
Discounts on food and merchandise: Most memberships give you discounts on food and merchandise bought in specific locations. You may also get access to special member-themed merchandise like pins or t-shirts.
Discounted or free admission (and priority registration) to special programs: Many museums and theme parks have special exhibitions, kid's programs, holiday themed events, camps, classes, and other special events. Members and pass holders generally get discounted or free admission to these programs and may even get first crack at reservations for limited-space opportunities.
Free or discounted admission to other attractions: Many museums and zoos have reciprocal agreements with other museums and zoos around the country or around the world. This means that if you show your pass at a participating venue, you will likely get in for free or at a greatly reduced price. This benefit really comes in handy when you're looking for something to do while on vacation, but there might be other participating venues in your own city.
Special offers from other partners: Many museums and parks partner with other companies in the area. You might get discounts at other restaurants, parks, attractions, museums, or shops through their partnerships with your "home" attraction.
Access to special venues: Some museums and zoos have special rooms or picnic areas that can be rented for parties. Members often get first choice of dates and reduced rental rates. If you're planning something like a wedding, birthday party, or family reunion, this can be a valuable benefit.
Free or discounted parking: In theme parks and zoos, parking can easily be over ten dollars per car. Museums that are in cities may require you to park in paid parking decks. Those with memberships and passes, however, often get to park for free or at reduced cost.
Other freebies: Members and pass holders may get things like magazines, calendars, newsletters, t-shirts, tote bags, or DVD's for free. While the value of these things might be negligible, they can tack on a little more value to a membership or pass.
Access to special collections or research facilities: Members of various institutions may be granted access to collections, libraries, or other resources that are not available to the general public. This can be useful if you have a deep interest in the subject or a child who might want to do a project on the subject.
One final "icing on the cake" benefit of many museum and zoo memberships is that a portion of the purchase price might be tax deductible since many of these institutions are non-profit, charitable institutions. Since tax laws are complicated and the amount, if any, that you can deduct varies, be sure to check with the facility for exact details. They should be able to provide you with the information you need.
As with anything, do your research before you commit to a membership or season pass. Know exactly what's included and what comes at an extra charge. Make sure you can get your money out of the pass before you buy. Once you have the pass, don't toss it in a drawer and forget about it. A pass is only a great deal if you use it. If you use it wisely, though, you can get a year or season's worth of entertainment for a bargain price.
Photo courtesy of Andrew 94