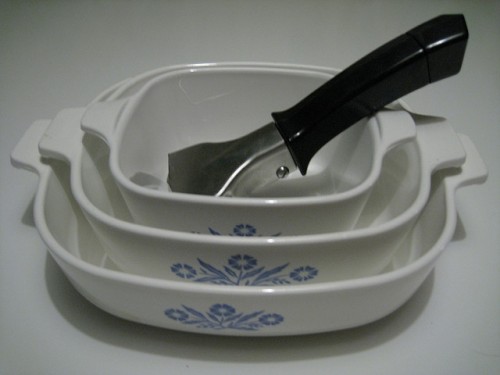 I got a rude surprise when I recently asked for some CorningWare as a gift. You probably know the bakeware that I'm talking about. CorningWare was famous for their bakeware with the blue cornflowers on it. It came in other patterns, but that blue cornflower was an icon. My grandmother had it, my mother and all my aunts had it, and I have a few pieces that I received as gifts years ago. However, as I just learned when I wanted to acquire a few extra pieces for the motor home, it is no longer made, having been replaced by "CorningWare Lite."
So why is a personal finance writer writing a piece about the demise of a brand of bakeware? Because CorningWare is deeply ingrained in my mind as a symbol of frugality and it helped me in my own frugal journey. CorningWare could be used on the stove burner, in the oven, in the microwave, and then placed in the refrigerator for storage. It was dishwasher safe and easy to clean up. It was nearly indestructible, surviving many drops and collisions with other bakeware with only a tiny chip. Its versatility and ease of use made it easier to cook meals at home. You didn't have to dig through (or buy) a bunch of specialized pots and pans to find what you needed to cook something; just grab the CorningWare. It was relatively inexpensive and great for those looking to cook at home on a budget.
I can remember my grandmother, who could cook dishes to rival anything you could buy in the finest restaurant, teaching me to cook with CorningWare. I was probably eleven. She preached it's usefulness and told me that I could make anything if I had those dishes. So I made sure I had some in my cabinet when I went out on my own. No matter how little money I had, as long as I had my CorningWare I knew I could make a decent meal at home. Casseroles, pasta, vegetables, soups, and stews could all be made with CorningWare and some inexpensive ingredients. Between the CorningWare and a good slow cooker, I was set. I never had to worry about upgrading my CorningWare, or worry about replacing it if the finish started peeling, as happens with some of the non-stick pans made today. I moved without fear of damaging my CorningWare. A bookcase once fell on it and it survived. Those dishes contributed heavily to my early ability to be frugal and start putting money away for the future.
I don't know the official reason that CorningWare is no longer made. I've heard rumors of everything from environmental issues to a theory that the age of the smooth top range ended its usefulness on the burner. I may be cynical, but I suspect the real reason is that it became expensive to produce, thereby cutting into Corning's bottom line. They needed to find a way to boost profits and a cheaper product was probably the answer. Also, since the original CorningWare was virtually indestructible, they needed something that would break and give people a reason to buy more over time, rather than using the same pieces for fifty years.
The stuff that has replaced the original Corning Ware, this CorningWare Lite, is not as good. You can't use it on the stove burner and it is flimsier. Indestructible it is not. It's billed as lighter to carry, but lighter seems to translate into breakable. Like everything else in the world, what was once durable and well made is now flimsy and not as good as its predecessor. This happens with every product, from appliances to electronics to furniture. The things that our mothers and grandmothers used were generally built to last. The things we have on the market now are built to be replaced as soon as possible. Companies make more money if you have to buy their products often. They don't make money if you can use the same product for fifty or sixty years. They say that if they make something cheaper they can pass the savings on to you, the consumer. I don't know about you, but given a choice I'll always pay a little bit more for something that I know will last rather than just buying the cheapest thing on the market. You'll still save more in the long run.
Needless to say, I'm sad to see CorningWare go. Not only is it the end of a very useful product, it seems like the end of an era. It seems like it almost marks the final passing of the frugal era when people knew how to make things stretch, when they cooked at home, and when you bought something and used it forever. It seems like one of the last products that tried to help people be frugal and wise homemakers has fled the market, leaving us with nothing but "convenience products" that don't last.
Well, the only good news for the frugal people is that we'll have to be even more frugal in the ways we acquire CorningWare. I've had some success tracking down pieces at GoodWill and the Salvation Army, for a fraction of what I'd have paid at WalMart. So for now it's Corning's loss. But I feel bad for future generations who will not remember the days of products that helped you to be frugal simply by doing a good job and lasting a long time. Of course Corning's not the only manufacturer taking the cheaper road and discontinuing their better products in favor of cheaper alternatives. They all do it. And eventually it will become a loss to all of us.
Share with us: What other products that helped you on your frugal journey have you seen taken off the market?
(Photo courtesy of bokeh burger)
Like Saving Advice? Subscribe!
Subscribe to get the latest Saving Advice content via email.