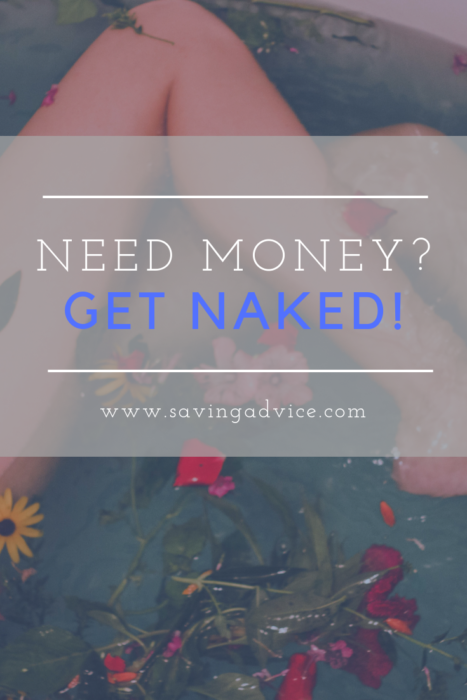 A friend of mine recently told me her money secret. She has a modest job, yet always has the latest gadgets: flat screen TVs, home theater system, the works. She also recently had new carpet put in her basement and bought an air-hockey table for her rec room.
I finally asked her how on earth she was paying for all of this. At first, I thought I was going to get the standard answer, that it was all part of an ever-growing credit card balance. I wasn't even close, and I was even more floored by the real answer.
When she needs extra money, to either pay off debt, fix her house, or buy the things she wants, she sells photos online. But, not just any photos — nude pics of herself. If she's feeling extra frisky, she sells her underwear, too. She's been doing it for five years, unbeknownst to her friends and her employer. Her haul?
About $6,000 a year, or an average of $500 a month.
Wow. It never even occurred to me that it was possible selling nudes online unless you worked in a strip club or were a "professional" porn star.
Big Money in the Adult Entertainment Industry
The professional adult entertainment industry generates billions of dollars in revenue. But apparently, there are entire websites filled with average-looking women who are making plenty of money in the internet adult entertainment industry, who aren't included in that total.
The barriers to entry are so low — almost anyone can do it. All you need is a cheap digital camera and some basic photo editing software, and you're in business.
My friend stumbled on this several years ago after she was laid off from a relatively high-paying job. Unemployment checks weren't covering the bills, it was taking longer than she expected to find a job that paid enough, and she needed a way to make ends meet.
How to Get Started
She had long been selling random items on eBay. When she sold a pair of her old high-heeled shoes there, the buyer told her about an adults-only auction site where she could sell her girlie castoffs, like shoes, dresses, etc., as well as naughty photos and videos for a lot more than she was bringing in on eBay.
She tried it out and the money was so good, she became one of the thousands of ordinary people hosting adult auctions online and turning a tidy profit. She just posts a few Playboy centerfold-like photos two or three times a week, she says, and the money rolls in.
"It was an easy way to make money at home in my pajamas," she said. "And it turns out, I made a lot of friends online." She enjoyed it so much that when she got a new job, she didn't quit.
She insists that what she does isn't shady. There is no prostitution and she isn't sitting at home producing amateur hard-core pornographic movies. The only contact she has with her customers is online, either through the auction site or a separate email account she has just for running her side business.
Other Online Sites for Selling Nudes Online
After a little research, I discovered that auctions are only one of many ways folks are making money online in their birthday suits. Some sites pay up front for nude photos and then post them in their members-only areas. One site I stumbled across pays (ahem) extremely well-endowed women a minimum of $200 for topless photos. Another very popular site features artsy nude photos of young hipster women with tattoos and pays at least $200 a session. That kind of money isn't to be taken lightly, especially if you are in a pinch and aren't shy about baring it all for strangers.
Obviously, earning money this way isn't for everyone. But I will say you don't have to be a supermodel to do it. My friend is pretty, but not gorgeous, average build — but dare I say, a little bit pudgy — in her late 30s, and she is doing quite well.
Is Making Money on Adult Sites For You?
If nudity or getting paid to date doesn't conflict with your beliefs or your relationships, making money on internet adult sites could be a significant money maker that can pay as much or better than a part-time job. (And, without the unpleasant bosses and scheduling conflicts that can come with moonlighting.)  However, you should have options, some of these involve nudity, some don't.
Bentbox.co: Bentbox allows you to sell photos (nudes and other photography) via the site.
Seeking Arrangement: This one is also known as a "Sugar Daddy" dating site. However, the site boasts it has some of the Fortune 400 billionaires registered as "daddies."

What's Your Price: What's Your Price is a similar site. You can buy and sell first dates through the site. You post a price and other members will offer you a certain amount of cash for the date. Then, you either accept the offer or provide a counter. Think of it like price haggling for dates.
Miss Travel: Although this site doesn't explicitly involve the exchanging of any money, you can also meet some interesting people. Some of the individuals on the site (if they like you enough) may even pay for you to travel!

Any of these could definitely get you a lot closer to your financial goals, whether it's paying off debt, paying for school, or putting money in your savings account.

What do you think about making money on internet adult sites? Let us know in the comments below!

Read More
If you enjoy reading our blog posts and would like to try your hand at blogging, we have good news for you; you can do exactly that on Saving Advice. Just click here to get started. If you want to be able to customize your blog on your own domain and need hosting service, we recommend trying BlueHost. They offer powerful hosting services for $3.95/month!