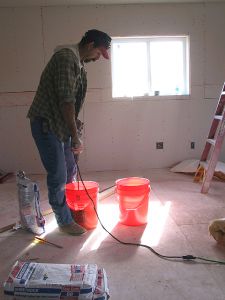 If you are planning a home improvement project in the near future, here id a huge money saving tip you may be able to utilize. Even with the ever expanding reach of large discount home improvement stores over the last decade, repairing and fixing a home is still an expensive proposition. If you don't think you have the money to make a needed repair or improvement, you might be able to afford it by going to a ReStore.
ReStores are stores that are run by Habitat For Humanity and are stocked with excess supplies from the houses they have built and from donations gathered from local businesses. You can kind of think of them as a home improvement supply Good Will store.
Since they don't have a steady line of supplies coming in like a regular retail store, the supplies they have on hand will likely vary each time you visit. Colors and patterns will likely be limited to basics since those are what are used for most of the Habitat for Humanity building projects. While these materials will be basic, they will also be quality and priced at a steep discount on what you'd find at your local home improvement store.
For those on a tight budget, the lower prices may make it possible for you to get a needed repair completed that looked like it was beyond your current budget. For those making home improvements, you may be able to do a more extensive improvement than you had anticipated with your current budget. Getting all the materials you need may take a number of visits, but for those who are not in a hurry they should be able to locate the items they need over time.
ReStores are located in both the US and Canada and you can locate the store nearest you with the handy ReStore locator:
US Store Locations
Canadian Store Locations
If you have a store near you, make some time to visit the next time you're in that area. Get a feel of the supplies they have on hand and if you know you will be doing a specific project, ask the manager if and how often they get in the supplies you need. If you are able to get your supplies at ReStore rather than at a typical discount home improvement store, your project will likely cost hundreds less.