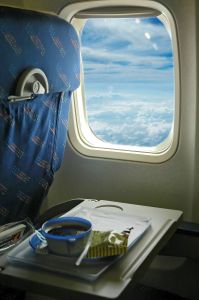 One of the biggest reasons I chose to quit selling on eBay where I had built up a good clientele and was making a decent income was time. Unless you hire people to keep eBay listings going while you aren't around, it is difficult to take time off because a week's vacation can mean losing 3 weeks to a month's worth of income. Since I enjoy traveling and haven't done much of it over the last several years, finding a job that would allow me to travel was a major factor in me deciding to make websites and writing my main job.
One of my lifetime goals is to travel to 100 different countries (I've manage to travel to 30 different countries so far). While I don't expect that I'll be able to do a whole lot of traveling over the next few years as I concentrate on continuing to build the websites, I hope that eventually I'll be able to do all the work as I travel. That is the ultimate goal.
I set up a new site at 100Countries.com to follow this goal. Even though we set it up as part of our satellite system, it's not really a satellite site in the sense of the other ones we have. It won't be solely an informational site like the ones that we have set up in the past, but more of a following of my goal interlaced with travel saving ideas.
I would love to make it into a comprehensive travel saving site, but know that the time to do something like that just isn't available at this time. That being said, I've learned that it is better to get something up, even if it is only a page or two, than nothing and waiting until a full site worth of content is available.
Like with many issues in personal finance (and life in general), nothing ever gets accomplished if you only think about doing the things, but never start. Of course, there is still the step of continuing once you've started, but that first step of starting is always essential. I also find that if I take the step to begin and let people know about it (as I am doing here), that I am much more likely to follow through and put energy into that goal (it's so much easier to slack when only you know about what your goals are)
So I'll take the first step with this site and see where it leads me in the future…
Like Saving Advice? Subscribe!
Subscribe to get the latest Saving Advice content via email.