I wrote a little while ago about my desire to dig for diamonds and mentioned that I would also like to pan for gold. I convinced my dad to take me to the foothills in California and we decided to try our luck at panning for gold.
I can tell you without reservation that this is not how I would want to make my living. I was sore for the next three days after our adventure. Although we did find a small bit of gold, it was nothing compared to the amount of work we put in.
We started out simply panning for gold. While this wasn't too strenuous, it also got pretty boring rather quickly when we weren't finding any gold. We decided to move up to a sluice box. Instead of picking up a couple of handfuls of sand from the river bottom, this entailed taking out shovels and digging into the river bed.
The first challenge was to even be able to dig in the river bed since it was quite rocky. With much effort (and what would make me sore for the next few days) we placed shovel fulls of rocks and sand into a wire grate over a wheelbarrow. The grate had small holes so small stones and sand could get through, but the larger rocks couldn't. We then washed the small stuff through and threw the larger rocks to the side.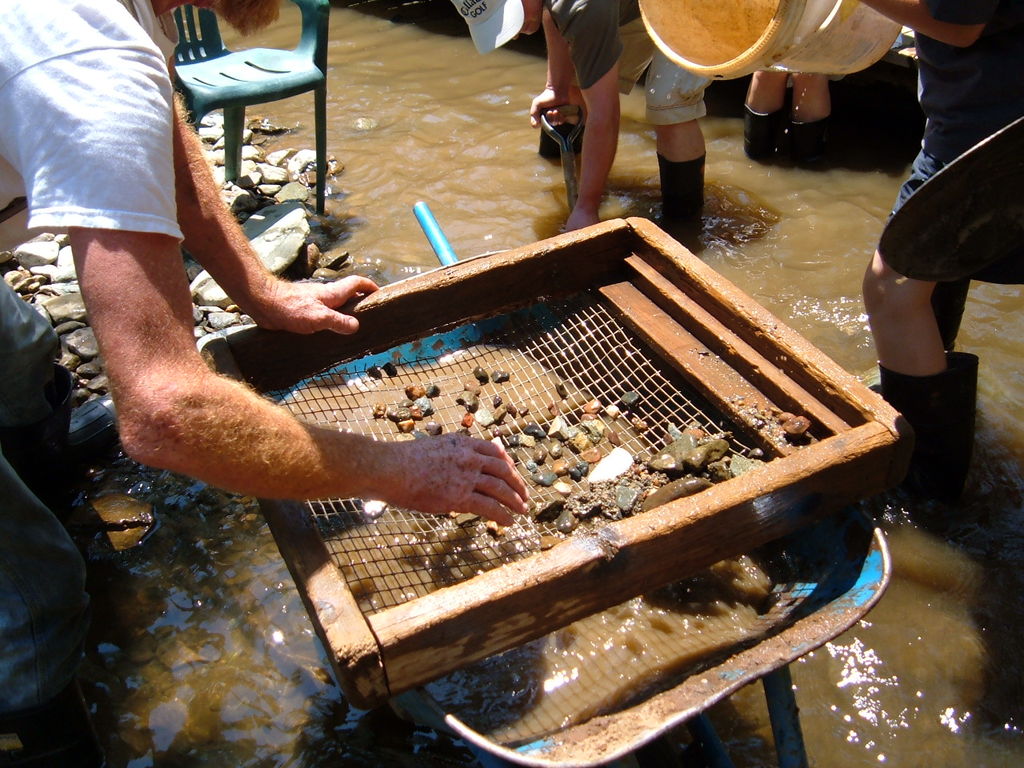 After about an hour of digging and sifting, we had a good amount of material in the wheelbarrow. We then took this material and let it run through the sluice box. The box then separated out the gold from most of the other material, but not all of it. While there were a few gold pieces that we could pick from the first part of the sluice box, the inside parts of the sluice box had to be placed into another bucket and washed. This released the sand, small pebbles and gold that the sluice box had trapped. Then we took this material and panned it to find the gold.
After about 2 hours we managed to find a small amount of gold which undoubtedly wasn't worth the amount we paid to rent the panning and sluicing equipment. It was, however, a great day spent with dad playing in a river and joking around. Although I have no plans to do it again, I can now say that I have been panning and sluicing for gold – another one of the things I wanted to do in my lifetime scratched off the list.