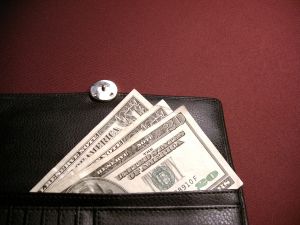 One of the most important aspects of personal finance is discovering the best way to spend your money. This is yet another one of those things that at first appears to be so simplistic that as you read this, you're probably wondering why I'm even bothering to talk about it. You're probably saying to yourself that most people don't have a problem spending money, they have a problem saving it. Of course everyone knows how to spend it.
The truth is that the way you spend money will go a long way in determining how much you ultimately are able to save. Some people keep on their budget without a problem when they use cash, but completely blow it when using a credit card. Others can save more using credit cards due to the bonus rewards they receive (while of course always paying off the balance each month). Others prefer debit cards to both credit cards and cash.
There really isn't a black and white answer to this area of what is the best way to spend. A lot depends on your own triggers and what method motivates you to spend the most responsibly. It is, however, essential that you take a hard look at how you spend using different methods (cash, credit card, debit card, check, etc) and figure out which method is best suited for you. If you spend using a method that is not conductive to helping you stay within your budget, you've set yourself up to fail even before you begin.
I've been thinking about this because I am trying to break myself of a habit that I developed in Japan. While I used credit cards for almost everything to get the rewards, I also carried around a lot of cash. Although credit cards are now widely accepted in most places in Japan, they certainly weren't when I first went over there (I received my first monthly paycheck of $3000 in cash stuffed in an envelope – from the local government office for being a teacher). I also did a lot of antique shopping while there and many times only cash was accepted for these purchases. Therefore I would almost always have $500 in cash at a minimum when in Japan, and often much more (and this is why Japanese tourists are often targeted by thieves when on vacation).
Well, it isn't the smartest thing to be walking around with $500+ in my wallet now that I'm back in the US and credit cards can be used for virtually any purchase, but surprisingly it has been a hard habit to break. I finally got the cash in my wallet to under $100 for the first time since I returned back to the US and hope to keep it there unless there is a specific reason to have more cash on hand. What do most people feel is a reasonable amount of cash to carry around on a daily basis in the US?