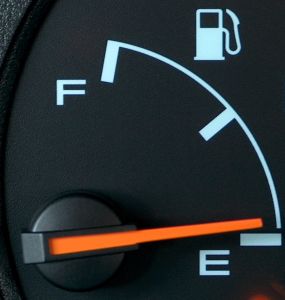 Concept: Fuel prices fluctuate quite a bit over the course of a year making it difficult to budget for how much you'll need to spend on gas. The Fuel Bank allows you to purchase gas now and lock in that price per gallon no matter what gas prices do in the future. Many of the media reports show this by interviewing people who locked in their rates at less than $1 per gallon which they are still paying today while the rest of the country is paying close to $3
Once you have purchased your gallons, you can pick-up your pre-paid gallons at any gas station in their system (they are currently laying the groundwork to go nationwide) by using the Fuel Bank card you're given. No matter what the price reads at the gas station, you pay the price you locked in your gallons of gas at when you pre-paid. According to the site, "Even better, if that pump price has fallen below the price paid on the Internet, Fuel Bank will credit the customer with the difference."
Will You Save Money?: Yes**
Comments: What the Fuel Bank does is allow you to budget your gas costs rather than having to be at the mercy of fluctuating gas retail prices since you know the exact price you'll be paying no matter where the retail prices move. It also prevents you from feeling the sting of temporary gas price spikes that seem to be more common these days. If you feel that gas prices are going to continue to rise and want to hedge against this possibility, the fuel bank may be right for you.
While the Fuel Bank can save you money if gas prices rise, and you are somewhat protected if gas prices fall, there are some considerations you need to think about that may make it appear that you are saving money when in reality you really wouldn't be.
**You need to look at what the money you prepay for the gas would have earned you had you left it in the bank. If you lock in rates at $3 a gallon and the average price for the year ended up being $3.10, you might think that you made a good choice and saved money. Had you placed the money in a year long CD at 5%, however, you could have purchased the same gas and had money left over in the bank.
**Payment for these fixed prices is by credit card. If you don't have the savings to pay off the credit card payment when it comes due, the gas becomes a lot more expensive than the price you actually paid due to interest charges you'll incur making it much less likely that you'll save money even if gas prices do rise.