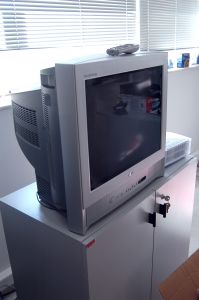 Many people believe that watching TV is one of the most inexpensive forms of entertainment. If you look solely at the costs of the energy needed to run the TV, there could be an argument made for this reasoning. If you look at other factors, however, the TV can be considered one of the more expensive forms of entertainment.
There have been a number of studies that show that the more TV you watch per week, the more you're likely to spend (those commercials do work). A study by Juliet Schor on TV watching found that for each additional hour watched per week added up to more than $200 spent during the year (ie – if you watch 11 hours a week, you're likely to spend about $200 more a year than if you only watch 10 hours a week). That means that if the average person can decrease their TV watching by an hour or two each week, they will save approximately $200 – $400 over the course of the year.
Before you discount yourself in this group that spends more, remember that it's usually TV that drives kids to want the latest toy, the fast food meal and all those gifts for their birthdays and Christmas. Don't forget all those "new, improved" items that caught your eye and you had to try. Whether we realize it or not, advertising has a big influence on us and our family.
One of the best ways to reduce the number of hours each person in your family watches TV is to implement a Pay To Use Game with your TV. Give each person an allotted number of "free hours" each week during which they don't need to pay anything to watch TV. If they go beyond those free hours, however, they must pay to watch. If each hour a week you watch equates to approximately $200 in spending, then each family member should place between $3.50 and $4 in the extra hour TV jar (or whatever amount you feel is appropriate) for each hour of TV they watch over their allotted free hours.