I mentioned earlier that when we travel in Japan, we have a number of activities that don't cost anything and keep us entertained. We also almost alwasy travel for free – in fact, most of our ventures end up making us a bit of money.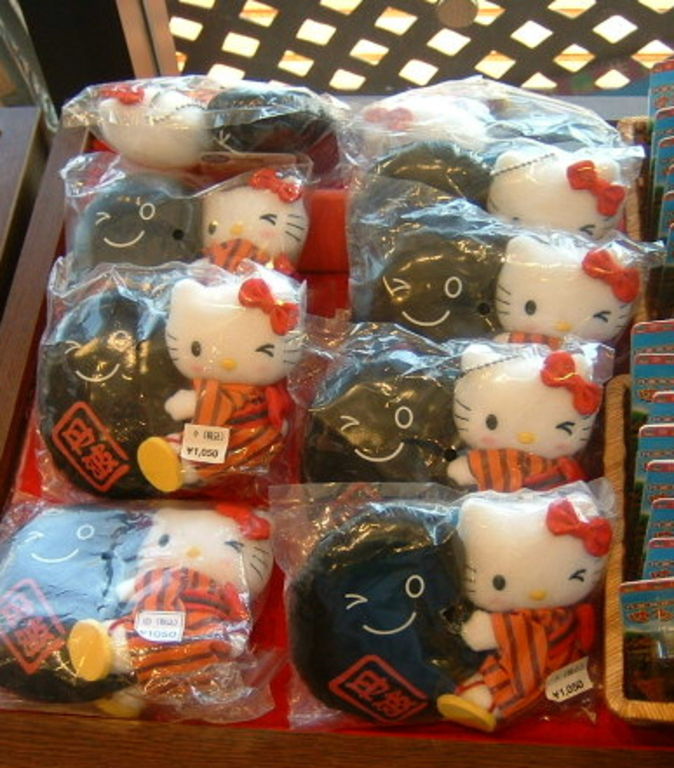 While it pains me much to admit it, it's the entire Hello Kitty Business that allows us to travel for free (or make money). One of the items that sell really well for my wife are "regional" Hello Kitties. These are Kitties that are only sold in a certain part of Japan and nowhere else. Usually they have a local theme and they are often quite difficult to get. This being the case, Hello Kitty collectors will pay quite a bit for them even when my wife purchases them at retail price.
My wife does some research and finds regional Hello Kitties that she thinks are cute and unusual so they will sell well. I then choose the places in that region I want to visit. On our trip we will spend most of our time seeing the sites we both want to see, but we do have to set aside a couple of hours so that my wife can clean out the town of all their Hello Kitty plush.
For example, on this past trip we went through an area that grows "black beans" as a specialty. Of course, that meant there was a regional "black bean" Hello Kitty which meant my wife promptly purchased the entire stock of Hello Kitty Black Bean Keychain Plush at the store we stopped at. That was 9 plush keychains with each bringing in a $10 profit after all expenses (My wife estimates they won't last a month).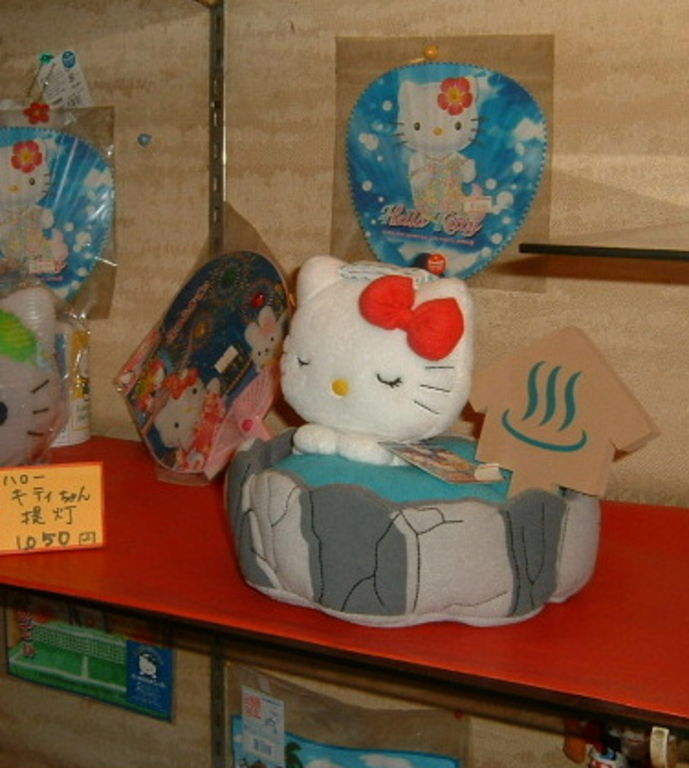 We then visited a small hot ppring town on the Japan Sea Coast where of course they had Hot Spring Hello Kitty Plush and Keychains (Keychain 1 – Keychain 2 – Keychain 3 – you have to love keychain three where Hello Kitty is holding a rifle – maybe I'll have to send one of those to Dick Cheney 😉 ) Again, all those will net her $10 after expenses and she picked up 5 of each. Then of course there are the full sized Hot Spring plush which will net $30 after expenses and she picked up 5 of those.
As you can see, a day trip to the right area can produce several hundred dollars worth of Hello Kitty profits and thus we can travel throughout Japan for free.