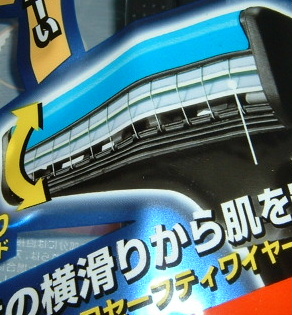 I admit it – I get hooked into the free razor give-aways. The fact is that the reason that razor companies can afford to give away razors is that the place they make their money is selling you the blades (a lot like printers and printer ink). And with blades on the latest and greatest razors costing a few bucks a piece, shaving can get fairly expensive when added up over the year. The problem was that I could never find a disposable razor that I was able to use. There were two main problems with them for me:
1. I have a nice scar under my chin from stitches I got while I was a child. Disposable razors always seems to cut this scar every time I used them
2. Disposable razors only last a fifth or less of the time a regular razor lasts me. That means that even though they are less expensive on an individual basis, I have to multiply the cost by 5 or more to get a fair comparison of the prices.
When taking these two issues into account, I always opted to pay a little more for the fancier razors that left me with a smooth shave without the cuts — until last month. I finally found a disposable razor that gives a pretty good approximation of my regular shaver and lasts just as long without cutting me – the Schick Protector Disposable with safety wires. I know this is not new, but it just happened to be the first time I've ever used it and I have myself a new, low cost, shaving device.
The safety wires prevent me from cutting my scar and they also seem to help to make the blade last longer. The best part is that I can get a 5 pack for about $2 instead of $12+ for a five pack of the razors I had been using before. That's quite a bit of savings.
Here are a few more tips on reducing the cost of razors:
If you shave in the shower, don't leave your razor in the shower. The steam will reduce the life of the blades. Storing it outside the bathroom area can more than doubled its life.
Opt for disposables if appropriate. They are much less expensive that standard blades.
While initially more expensive, electric razors are much cheaper over the long run if they work for you (they make me break out for some reason…)
If regular razors are the best option for you, don't automatically go for the refills. Because the razor manufacturers want you to switch to their brand and razors, it's sometimes cheaper to buy a new razor (with starter blades) than to buy refills.
In the same light, always take the free razor offers when available. When a new model razor debuts, it's fairly easy to get these for free.

And last but not least, hide your razor from your wife 😉 After 6 years, my wife still doesn't think I'll notice when she uses my razor and she will if I accidentally leave it someplace where she can easily use it. One round with her legs and the razor is worthless…