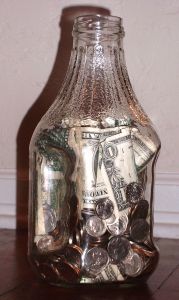 Most of the 50 items I placed on auction last week have ended. The overall result was mixed – I sold probably 25% of the items listed, but most I placed at the high end of the price scale since it was a discount listing day. The results of the photos I put on auction for the challenge were better: 3 sold for $24.95, 1 sold for $49.95 and 1 sold for $74.95 and one remains unsold (I extended the auction to 10 days). Much better than I anticipated on those. That leaves my totals after all expenses as follows:
Previous Total: $98.36
Current Total: $231.18
Inventory: 1 book, 5 photos
With the prices the photos fetched, the Pearl Harbor photos could possible sell for several hundred each – I'm still deciding whether to leverage them by making reprints and selling those at a discounted price multiple times or just sell the photo outright and let someone else do that. One more thing to think about…
The other portion of the listings went terribly. I had placed up a variety of items that I knew I could get at a local hobby shop without actually purchasing them. These included a Star Wars Card Set, a Coca Cola Bottle Cap Set, a Coca Cola Partial World Cup Pin Set and a Coca Cola Winter Key Chain Set of which none of them sold. Quite disappointing.
My guess is that the Star Wars boom is now over with no more movies to be made (I did quite well with selling Japanese exclusive items from the movie so it's a bit sad) so I'll likely give up on those. I may wait a bit longer on the World Cup pins and maybe it would be smart to sell them as individual pins since there isn't a complete set. The problem is that if only one pin sold, I would have to purchase the entire set from the hobby shop. I'll think about that…
The only positive in that area was that I didn't purchase the items outright and have them now sitting as dead stock. I'll see if I can find some other items at the shop that I think may sell and try listing those. I'll be keeping my eyes open for some more opportunities including some of the money I have accumulated now to purchase some more items to sell. I also want to get the book on auction this week and see what it sells for.
Like Saving Advice? Subscribe!
Subscribe to get the latest Saving Advice content via email.